---
Fred and Crystal Kovach, AGWM acc't #243344 9
Your Technology Missionaries Reaching Our World Using Electronic Evangelism!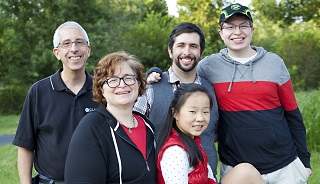 Vietnam Video: One Pastor's Story
Flash Video Presentation
RealMedia
Quicktime
Windows Media
Fred and Crystal serve as media missionaries with Global University, working with Assemblies of God missionaries world wide to provide technology tools to reach local communities with the Gospel. The Kovach's also travel overseas to provide technical support to missionary television studios. Previous to missionary appointment, Crystal worked alongside the South Carolina Missionettes (Girls' Ministries) coordinator for five years, assisting her with District functions. Fred assisted churches with technical needs.

One of our current projects is GlobalReach.org - Your source for Evangelism and Discipleship courses and resources in several languages, including Amharic for Ethiopia, American Sign Language, Arabic - اللغة العربية, Bahasa Indonesian, Bangla (Bengali), Cebuano, Čeština – Czech, 简体中文(Mandarin/Simplified Chinese), 繁体中文(Traditional Chinese), English, Español, فارسی - Farsi, Français, Georgian, German, Hiligaynon, Hindi, Ilocano, Italiano (Italian), 日本語 (Japanese) 한국어 (Korean), Русский (Russian), Sinhala, Tagalog, Tamil, Türkçe-Turkish, Urdu and Vietnamese! Sister projects are LifeOfChristOnline.com, JourneyAnswers.com and GreatQuestions.org
---
---

Media Missionaries, Fred, Crystal, Phillip and Stephen Kovach